Monthly Archives:
February 2015
In the last post from Breathless, I reviewed a book I really enjoyed reading, but it ended too quickly. I vented my frustrations at being gypped half a book. Eternal Vows, by Chrissy Peebles, is another of these novellas, but I'm glad I only got 1/6 of the tale.
Amazon: 3.9 (241 ratings)
Barnes and Noble: 3.9 (139 ratings)
Goodreads: 3.7 (1942 ratings)
Synopsis:
"Never marry a stranger…even if he is a drop-dead gorgeous immortal king.

Never pretend to be a princess.

And most importantly…never slip on an ancient wedding ring you know nothing about.

Sarah Larker returns to a cave where her sister disappeared ten years earlier. She walks through a portal and is mistaken for a runaway princess on the run by a dangerous immortal king in medieval times. Her plan is bold as well as daring—become this princess, wed the king, and slip on an ancient wedding ring that will unlock the portal back home. Then find her sister and run as fast as she can out of Dodge. But taking on the identity of Princess Gloria comes along with dangerous consequences; and slipping on the ruby ring comes with an even higher price."
Soundbite from the web:
Good: Chrissy Peebles has outdone herself with this highly captivating, hold your interest to the end romance story with a twist in "Eternal Vows". This is the first book in what is sure to be a successful series. (5-star rater on Amazon)
Bad: "This was too absurd to finish. I think it was supposed to be tongue in cheek humor, but it fell flat. I just could not beyond 41 0/0 of the amateurish plot." (1-star rater on Amazon)
Ugly: "This book just wasn't as good as I was hoping for. First of all, there are a fair number of really annoying editing problems. For instance, the vows for one of them say cling unto, instead of cleave unto. Or how about the Cardashian court becoming the Kardashian court. Did we move it to New Jersey!?" (3-star rater on Amazon)
I say:
This book had its interesting moments, but it reads a lot like one of those terrible teenage romance novels. Sarah is the female kind-of-equivalent Indiana Jones (which happens to NOT be Hannah Montana…so she's Arizona Fiona? I digress….) She's hunting Bigfoot with a squad of fellow scientists. They've been ridiculed for their research in the elusive ape man. Sarah's is particularly interested because she believes Bigfoot captured her younger/older sister (the book begins with her sister being older, then ends with her being younger) during a camping trip in California and Sarah was the only witness. Hmm… I've been camping in California. It could have been a drunk hippie…
One night their campsite's sensors and camera's go wild with activity. A skeptic reporter and former love interest of Sarah (named Frank) has arrived on scene to stir up some backstory.Then Bigfoot appears and everyone chases him into a cave and get teleported into not-Narnia ruled by the Cardashian Court (instead of Liam Neeson, so…they fell into the infierno of Narnia).
Sarah is captured by King Victor, a very hot hottie hot sexy babe man of the medieval world. This is the part that truly bugged me. 100% teenage girl thoughts of "oh he's so hot and dreamy, but he took me prisoner so I hate him" "Yikes, he wants to marry me and I do, but I'm not a princess, so I'll pretend to be the princess that he was trying to capture so I can marry him or escape or…" I'll end the horror of the run on sentence and the teenage female mind there.
Frank sneaks in to the prison and talks her into marrying King Victor, saying that the King has a ring that is their key back through the portal to Earth. Even though she loathes the King and thinks him a sexist sexy pig, she marries him and enjoys a few moments of making out with him before making her escape.
Here's another thing I didn't find convincing. The King believes that Sarah is the daughter of one of his former and once-trusted allies yet fails to see the difference in physical looks, or clothing, or accent (I'm sure California has a different accent than a medieval world, you know what I'm saying dawg?) He thinks she is playing stupid.
So what is the big problem with the book novella? The characters and their conversations feel forced and overdramatic, like every dialogue is trying to be important, yet nothing important is actually being said. Only King Victor really held a yoctogram of interest for me and only because he is so unintelligent and yet he's supposed to be a god among his people.
Final judgement: 2 stars
From their humble beginnings fighting Beowulf to their most famous debut in Middle-Earth, I'm listing my top 10 orc species cameos in literature, movies, and games.
As I formed this list, I came to realize that the orcs of Middle Earth would be #1 on my list because they invented the "modern orc", but I've decided to put them in a different place and give other appearances a fair chance. This list will be Tolkien-free and if you want to see what I think of his orcs, you can check out a list dedicated to the top ten orc chieftains of Middle Earth here.
.
 .
.
.
 The well-known orcs are Sauron's Uruks and Saruman's Uruk-hai, but that hardly does justice to the variety. Nothing beats the ferocious war machine that Saruman created beneath Orthanc, or the hundreds-of-thousands of orcs that laid siege to Minas Tirith and that's not including the orcs of Moria, Gundabad, Minas Morgul, Angmar, the Misty Mountains, or Morgoth's original orcs of Angband… *cough* all beaten by some hobbits *cough*… As I stated earlier, I'm giving the other cameos a chance.
 .
#10 Grendel
(Beowulf)
.
.
.
While not a modern orc, Grendel deserves to be mentioned because he is one of the earliest literary creatures that was described using the word "orcnéas" which would become the name of the orcs envisioned by Tolkien and other modern authors.
A beast said to be descended from Cain himself, Grendel terrorized the countryside and ate many people in the mead-hall of Heorot. Ironically, those people went to the mead-hall to eat and drown their worries away.
He squared off with Beowulf and held his own until Beowulf ripped his arm off, mortally wounding him. Beowulf tracked him to his cave, where he killed Grendel's mother as well. I put Grendel here because it's hard for the noobs to compete with the original orcnéas and someone has to give the other guys a fighting chance.
 .
.
#9 Magic: The Gathering
(Wizards of the Coast)
.
.
.
The orcs found in this collectible card game are few and far between. The original cards portrayed them as cowardly and hiding behind hordes of goblin servants, but in more recent times, the orcs show off their more powerful side in Sek'kuar the Deathkeeper and Zurgo Helmsmasher.
.
.
#8 Dungeons and Dragons
(TSR)
.
.
.
In the beginning, the orcs were two dimensional creatures with a single purpose: to grant experience to adventures with whom they fought. Then, decades later, they could be the adventurers. These orcs are based heavily on Tolkien's orcs and they were originally considered a subspecies of goblin.
The orcs of the famous D&D are cannibalistic, but prefer aggressive expansion into the territories of men and elves. Their chief deity Gruumsh cleats that the orc is the top of the food chain.
 .
.
#7 The Elder Scrolls
(Bethesda Softworks)
.
.
.
Savage brutes? Sure. In their early days they often rubbed the other races of Tamriel the wrong way. When the Empire beat them back countless times, the orcs submitted to the Emperor and have been admitted into the Empire as fellow citizens. While not as "cultured" as other races, the orcs enjoy the company of humans more than humans enjoy the company of elves.
What is most notable about the orsimer is that they are fantastic rank-and-file soldiers and blacksmiths. They are an evolutionary step up from raging hordes and wooden clubs.
.
.
#6 Might and Magic
(New World Computing)
.
.
.
The the world of Ashan, a war began between humans and demons. In order to match the demons in strength and raw power, human wizards fused demon blood with human flesh creating the the orcs. The orcs were ultimately successful in driving back the demonic hordes, but when the war was done, they were sent to do menial tasks as slaves of the humans. They rebelled and began forming their own clans. The weakest orc will make the strongest of men quake with fear.
.
.
#5 Warhammer/Warhammer 40K
(Games Workshop)
.
.
.
These orcs are tough, they are cunning, but they are not intelligent. Their society revolves around the need for constant war. They are allied with the goblins for two purposes it seems: to use them as shields and to use them as a snack.
They worship two gods named Gork and Mork (not Robin Williams' Mork). These gods are brutally cunning and cunningly brutal and if you ask an orc which is which, he won't have a clue.
Now fast forward 40,000 years (or something) and the orcs have proven themselves intelligent enough to build spaceships, vehicles, and firearms. Maybe their god Mork really IS Robin Williams…. nanu nanu orks of the future!
#4 Heroscape
(Milton Bradley)
.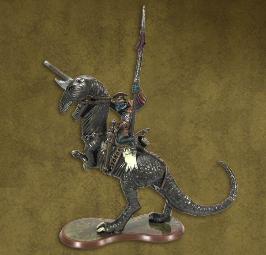 .
.
The orcs of Horoscope hail from the prehistoric planet Grut. They are blue-skinned, which is a shade of orc not previously used. They are a bit shorter than humans, but make up for that in strength and courage to ride a tyrannosaurus rex or velociraptor into battle. I give them an A+ on animal mount choice.
#3 Warcraft
(Blizzard Entertainment)
.
.
.
The orcs of Warcraft originated on the planet Draenor, but were enslaved by the demons of the Burning Legion and sent through the Dark Portal to Azeroth to destroy the humans. One epic war after another saw the destruction of many lands, but the humans eventually defeated the orcs and destroyed the Dark Portal.
Their connection to their demon lords severed, the orcs, under the command of Thrall, began to rebuild their society and ever allied themselves with the humans and night elves for a time to defeat the invading Burning Legion and their undead armies.
Much can be said about these orcs since Blizzard has gone to great lengths to make the brutish orcs into a full society to be explored. These orcs are known to ride wolves, bats and wyverns into battle and are long-time allies of the Jamaicans….I mean trolls with Jamaican accents… yeah.
#2 Discworld
(Terry Pratchett)
.
.
.
We finally move out of the raging hordes and bloodlust and find the orcs bred from humans for the Great War. These orcs are nearly extinct, with only one ever being named in the series: Nutt. What peaks my interest in these orcs is that they are no different from you or I. The people of Discworld kept Nutt ignorant of his society and educated him like a normal being. The result: An orc that is not a soulless killer as is usually believed in fantasy. In fact, an educated orc has a heightened sense of honesty and morality.
#1 Earthdawn/Shadowrun
(FASA)
.
.
.
The number one iteration of the orc is actually a subspecies of human and have no trouble breeding with all of the subspecies of human. The orc species as a whole is neither good nor evil. Another interesting factoid is that these orcs began to populate Earth post-2011. They live only 40 years, but are fully mature at age 12. They give birth to litters of 4 orc babies (and you thought twins was rough and rare).
It is now 2015, so the Unexplained Genetic Expression of 2021 is right around the corner. You might just mutate into an orc.
And those are the top ten cameos of the orc species from the brutes to the civilized! From where are your favorite orcs? Subscribe for more fantasy related posts and comment below to share your ideas!